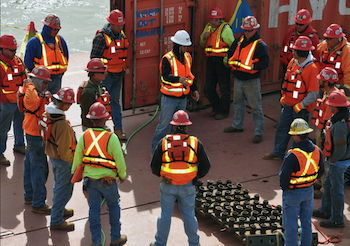 Be Prepared
As a leader of a toolbox talk, make sure you are prepared. You want to ensure that you fully understand the information that you are presenting. Make sure that you have reviewed the information prior to presenting it to your personnel. Use several sources (company policies and procedures, industry journals, internet sources, etc.) to review and check your information for completeness and correctness. The last thing you want is to present safety information that is incorrect, not factual, or outdated, so be prepared before you present vital information to your personnel.
Double Check Your Toolbox Talk Information
It is always good to double-check information before you present it to your personnel. Take actions such as reviewing recent OSHA/IOSHA bulletins and other regulatory information to ensure that there have been no recent changes to safety standards or regulations that might affect the information you will present. Occasionally, OSHA/IOSHA regulations are changed and/or updated. It is the responsibility of the presenter to double-check it to be sure that it is current.
Make the Toolbox Talks Specific to Your Job and The Hazards You Encounter Daily
The information in your toolbox talk must be related specifically to your job. Presenting safety data, regulations, best practices, or other types of information is best if it relates directly to your job and its employees. The personnel receiving this information should feel as if it was developed for them and their daily activities (and it should be). Try to avoid general comments about safety hazards, safety equipment, and procedures, and focus on what your personnel will face daily.
Make the Toolbox Talk Specific to Your Personnel
As well as making your toolbox talks specific to your job, the information should also be specific to your employees. For example, the topic is Fall Protection, and your employees are working from a fully supported and guarded scaffold, you don't want your fall protection message to focus on fall protection harnesses, lanyards, or SRL's. Instead, you should talk about specific fall protection hazards of working from scaffolds during your toolbox talks. Spending a little bit of extra time to personalize your information will create a more engaging talk.
Change Your Information / Use Information from Other Industry Leaders and Sources
There is so much information available in the industry that can take your toolbox talks to the next level. The key to this step is that you must personalize the information you gain from other industry leaders and sources so that it fits your job and your hazards. Using other forms of information can be good – it can help keep your presentations fresh and the information up to date. However, be mindful of copyright laws so that you do not plagiarize other individuals' information.
Be Sincere
Prepare yourself to present your information in a sincere and thoughtful manner. How you present your toolbox talk will affect how your personnel receives your toolbox talk. Doing the following will greatly improve your presentation:
Thank your personnel for being present at the toolbox talk.
Make eye contact with your personnel.
Speak in a calm voice and try not to rush the delivery.
Deliver your information and make time for questions.
Engage your personnel and get them to participate.
Be prepared to field negative comments in a positive manner.
Make your personnel feel that you care (because you do!)
Get Your Personnel Talking and Engaged.
Engage your personnel in the toolbox talks. Get your employees talking about the issues being discussed. Ask for their opinions and allow them to give examples and provide their experiences. These communications allow the focus to be on your personnel. Making the toolbox talk information personal to your people, as mentioned earlier, will also make the information more important to them.
Always Summarize
Always take a few moments to summarize the information that you present in the toolbox talk. The summary allows you to ensure that nothing was missed or misunderstood. Doing the summary also allows your personnel to ask final questions before the toolbox talk is dismissed.