Many hazardous substances and materials enter the workplace, but some industries certainly use more hazardous materials than others. Even if your facility only uses one hazardous chemical though, your company is still required to comply with OSHA's Hazard Communication Standard (Haz-Com or HCS). This OSHA standard states employees have a right to know the names of the chemicals they may be exposed to while at work, what hazards may be involved in working with those chemicals, and how to protect themselves from those hazards. While Haz-Com does require attention to detail on the part of employers, evaluating current practices and developing a plan suitable to a workplace will help safety managers create safe, efficient work environments. In this article we will address topics including:

Assessing substances currently in use

Making management plans

Communicating with employees

Take Inventory of All Potentially Hazardous Substances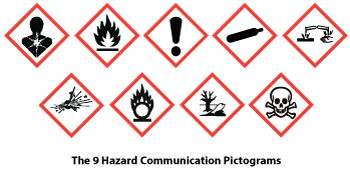 The 9 Hazard Communication PictogramsThe first step to ensuring your workplace is compliant with Haz-Com is to take stock of all the substances currently being used. Check each substance's labels and safety data sheet (SDS) for any warnings from the manufacturer. Any substance that may harm people or the environment needs to be handled carefully, and a plan for making sure that happens must be put in place.

During your assessment, take note of what kinds of chemicals are used, how they are used and how they are stored. Also consider how they are transported (if applicable), what potential health hazards (such as toxicity, irritation, or carcinogenicity) or physical hazards (such as flammability and corrosion) are associated with the substances and where emergency response equipment is located. While investigating all substances used by your company, keep in mind that even substances like bloodborne pathogens - not just manufactured chemicals - must be considered and handled accordingly.
Create a Detailed Haz-Com Management Program
Once safety managers have identified all hazardous substances that come through the workplace - even in small amounts - it is time to construct a management plan that relies on preparedness. Look at notes from the assessment process and determine what kind of education employees will need to handle these materials. To be compliant, you will need to explain the OSHA standard to employees, provide employees with information about the hazardous materials gathered in your assessment, and create a written hazard communication program for employees to reference.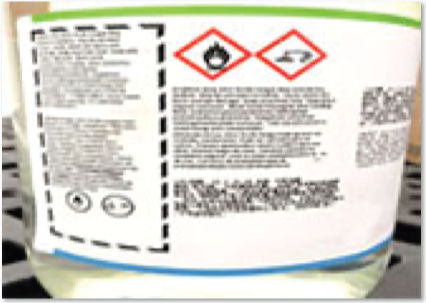 Specific best practices can help your company handle hazardous materials safely on a daily basis, so consider what procedures will make your facility safest. In the workplace, prevention is key to limiting workers' improper exposure to hazardous substances, so it's a good idea to implement a system that requires employees to check for potential problems before beginning work. This process could include removing food and potentially flammable substances from pockets and changing out of inappropriate street clothing. Then at the end of a shift, employees should follow specific practices for cleanup to reduce the risk of exposure. Depending on your company's operations, this could include disposing of waste, changing clothes, or washing up.

Also keep in mind that proper labeling is an important part of any hazard communication program because it will help employees keep the workplace safe. Containers of hazardous chemicals should already have manufacturer labels on them, but if hazardous substances are moved from one container to another, you will need to provide additional labels for those containers, like adding a skull and crossbones picture to express the possible dangers of the chemical.
Tips for Safety Managers
To guarantee your program runs smoothly, keep the following key details in mind:
SDSs and other written information need to be easily accessible for employees. Try designating a space - perhaps a labeled filing cabinet - for these materials and remind employees of where it is located.

Accommodations may be necessary so employees who do not speak English understand the policies and procedures. If you have a bilingual member of your staff who is familiar with the details of your program, you could post a sign indicating any employees with questions should contact that person.

Communication with contractors and their employees about hazards may require extra attention. Check in with new contractors to alert them to potential safety hazards so they can educate their employees appropriately.