Parkview Regional Medical Center
The Parkview Regional Medical Center is a $536 million project that began in 2008. Trinity Safety Group has had the opportunity to contribute in the successful safety performance on the project by representing three Prime Contractors. The contractors that have been represented by Trinity Safety Group have been involved in the steel erection, concrete installation, fireproofing, framing of walls and drywall installation.

Trinity Safety Group's Site Safety Management System (S²MS) and the Dbo2 observation system have been utilized on this project to track leading and lagging indicators. The use of this information has been vital to the successful safety performance on the Parkview Regional Medical Center Project.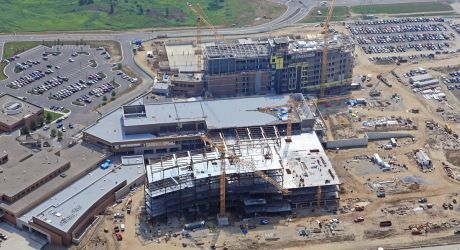 Parkview Regional Medical Center by the numbers:

Six acres of roof area

900,000 square feet

54,000 cubic yards of concrete

2,050 plumbing fixtures

10 miles of concrete curb

19 miles of interior walls

32 miles of ventilation ductwork

400 miles of fiber optic cable

1,200 miles of copper wire

1.1 million square feet of parking and roads

8,250 tons of steel

9,127 beams and columns

125,750 bolts

415 loads of steel delivered