Our Approach
At Trinity Safety, we approach everything we do from a human perspective, and start every new project by getting to know our clients personally. We help our clients to build safer, more productive work environments by forging relationships and creating cultural change to support communal system compliance. Basically, we help people connect to one another in order to work more safely, and that starts with having amazing people on our own team.
When we look for additional team members, we look for people who want to make a difference, and who have a genuine interest in people. Safety, at its core, is about how we behave towards each other, so it's important for us to all be in alignment in order to create a safe working space.
The Trinity Safety Group Employee Experience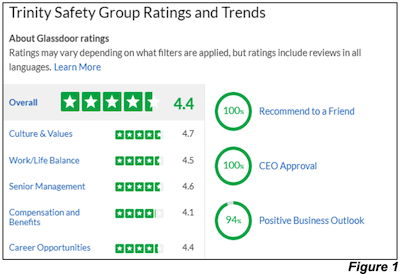 When you join the Trinity Safety team, you are welcomed into a hard-working community of collaborators all working towards a common goal. We use unity within our own company to help our clients build systems for organization and safety and emphasize the importance of putting people first in everything we do.
In order to provide our clients with the best services possible, we do our utmost to make Trinity Safety an amazing place to work. We strive to ensure that our team members always feel comfortable and supported. Thanks to our approach, Trinity currently has an overall Glassdoor rating of 4.4 (Figure 1), a whole 0.5 star higher than the next best-rated competitor.
On Glassdoor, Trinity Safety Group employees report more career opportunities, fair compensation and benefits, work-life balance, easy access and communication with senior management, and a positive culture and values system (as seen in Figure 2).

We encourage our employees to share their feedback so that we can continually improve the Trinity Safety Group employee experience. See what our employees are saying about us on Glassdoor.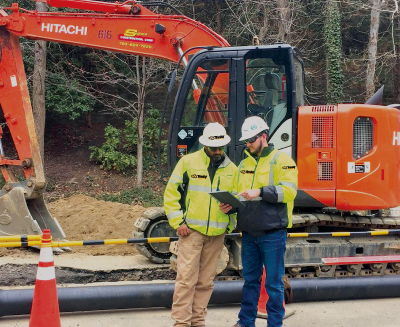 Whether we are instructing our clients or bringing on new employees to our team, Trinity employs a methodology based on listening, coaching, educating, and collaborating. We strive to give our employees access to tools and resources that allow them to become leading industry experts. If you are the kind of person who thrives in a team and loves to share their input and solve problems, you could thrive at Trinity Safety.
Ready to Join Our Team?
We are excited to begin expanding the Trinity team! As we continue to see our business grow, we will be posting openings for positions within Trinity Safety Group on the Trinity Safety Career page. If you would like to join our team and start making workplaces safer, check in to our website's Career page regularly or connect with us on LinkedIn to stay informed of upcoming opportunities.
Learn more about Trinity Safety Group and our efforts to deliver tailored safety-solutions to our clients by visiting us online today.