Trinity Hosts Safety Awards for Project Condor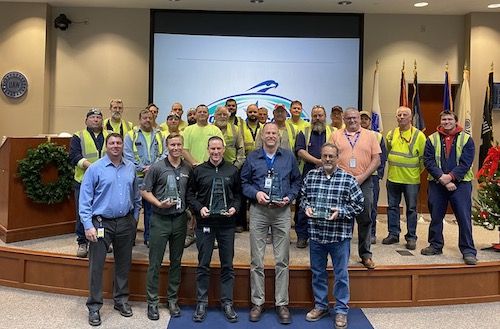 In December 2019, Trinity Safety Group had the honor of hosting a Safety Awards Luncheon to celebrate the conclusion of a 5-year long engagement with Rolls Royce on Project Condor. This project presented unique challenges of operating alongside Rolls Royce production activities and communicating project information across two adjacent properties separated by a highway. Due to the sheer size of the project and the goal of holding Project Condor to the highest standard of safety, Trinity Safety Group was enlisted to develop and implement a behavior-based risk management process. This process facilitated Project Condor's safety success, including strong leadership commitment, employee involvement, solid procedural framework, and competent safety support, through meaningful communication of real-time, relevant data.
The Safety Awards Luncheon celebrated the overall success of Project Condor and recognized personnel who demonstrated exemplary commitment to transforming safety culture. Trinity was pleased to present the following awards:
Rings of Excellence Award presented to Rolls Royce. The Rings of Excellence Award honored Project Condor's leadership commitment, planning and execution, and advancement of the safety culture.
Safety Leadership Award presented to Devin Kent. The Safety Leadership Award recognized the Rolls Royce person who best supported Project Condor.
Safety Impact Award presented to Chris Dunlap. The Safety Impact Award recognized the Rolls Royce management person who championed safety and moved the needle for long term safety culture.
Outstanding Safety Excellence Award presented to ERMCO. The Outstanding Safety Excellence Award was presented to the contractor company that best represented Project Condor's commitment to safety.
Safety Influencer Award presented to Jason Potts. The Safety Influencer Award recognized a contractor employee who stepped up as a field advocate for safety throughout Project Condor.
Each award recipient was presented with a crystal plaque to commemorate their impact on the success of Project Condor.
Congratulations to all the contractors, craft persons, and leaders for a job well done! Trinity thanks Rolls Royce for the opportunity to support such an important capital project.
---